1980 Honda CX500
Roast Moto 006 is based off of a 1980 Honda CX500. The bike comes standard with a dual shock suspension system, eliminating that was the main modification made to this project. The stock Honda swing-arm was modified to house a single rear shock and a custom seat pan was fabricated to anchor the mono-shock underneath the floating Biltwell pan seat. The new shock is a Showa, taken from a 1997 Ducati. Once all the frame and structural components were fabricated and installed, the bike was powder coated. Moving forward on the bike, a custom monochromatic paint job was completed in-house by Tyler Dugan. The underbelly of the bike is shaped by a custom exhaust set-up, comprised of two straight, 1& 1/2 inch, pipes. The air filter and engine ventilation filter have been replaced with K&N pod filters. Finally, a wiring harness reduction and customization was completed and runs forward to an Acewell speedometer and bullet turn signal set-up. The standard CX500 mag wheels are powder coated and wrapped in Coker Firestone Tires.

The bike was purchased by an enthusiast from Dubai, it is currently being housed inside the owner's restaurant as a show and conversation piece.

Powered by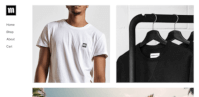 Create your own unique website with customizable templates.